Director Joan Henderson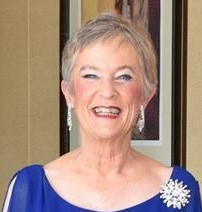 Joan joined Skyline Harmony Chorus in 1997 and accepted the position of Director 18 months later. She had been approached by one of the charter members who told her "All you have to do is just wave your arms and keep time." Needless to say, she soon found out that there was a great deal more to it and yet, she still decided to take on the challenge. Joan has brought her experience as a pianist and singer along with her musical knowledge to benefit the chorus in all facets.

Joan has always stressed the educational opportunities offered by the Sweet Adeline organization and has always taken advantage of those for the benefit of the chorus and for herself as a director. She still continues to be a "learner" with the rest of us. Joan strives to keep rehearsals educational, fun and, just as important, a way to stay connected with each other. Joan has led us, encouraged us, and a time or two "whipped us into shape" - all towards our mutual improvement and love of the harmony of barbershop music.

Joan has also been active on the Regional level in our organization as Director's Coordinator on the Management Team for several years and in other capacities on committees and with Director Certification processes. She is retired from keeping medical personnel and patients and attorneys in line for UVA's Patient Relations Department.


Assistant Director Kristi Nelson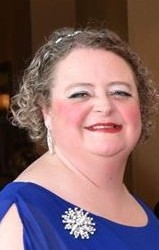 Kristi Nelson has been singing with Skyline Harmony Chorus since 2003. She was introduced by a friend from her church choir. She came to a Guest Night and was encouraged by the director to sing lead. At the end of the evening, she kindly informed the director that she was not a lead, she was a tenor! Kristi has served as Team Coordinator, Communications Coordinator, Team Secretary, Tenor section leader, Lead section leader, and Assistant Director (not all at the same time). Kristi has no formal training in music, although she has sung in church choir for most of her life. She is a prime example of the value of Sweet Adelines' vocal education!

In her professional life, Kristi is an analytical chemist and enjoys boring her friends with details of her work. She has published papers that nobody wants to read, and she knows things that nobody else would bother knowing (like the fact that your blood type depends on the sort of glycans attached to your proteins).